Not Enough Words
So far this year there have not been enough words in my life in terms of reading or writing. I am aiming - and hoping - to improve on both counts in the second half of the year (yes, I know we are already over a month into the second half).

In terms of writing I REALLY WILL finish
The Wobbly Odyssey
soon; hopefully within August. I WILL! I've got about
18k
words to finish it in my estimation so surely I can find 18 days out of the next 28 days to write 1000 words. Surely.

I know. Not surely. But like aiming to do 8k steps a day, 1k words a day is not undoable if I put my mind to it. The only writing I've been doing regularly really is the weekly challenge called #MidWeekFlash that Miranda puts up on her website
'Finding Clarity.
' Each of the last two weeks I've written them in one sitting and both ended up being over
1000 words
then needed to be edited down. So a thousand words a day is well within my compass: let's see.

The other side of this '
Not Enough Words
' equation is my reading. I set myself my usual target of around 40 books this year (42) and so far I've only read
18
. This means I've got to read just over a book a week to achieve my goal. It's not exactly a stretch goal but - like the steps - playing catch up has made it more difficult.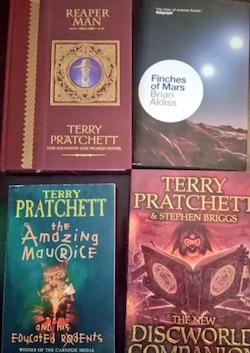 Four nice books picked up in a second hand shop

I know. It's not exactly like an Olympian trying to get a medal, but I they are goals I should go for. My current read after finishing Gareth Powell's '
The Recollection
' is one of the few Terry Pratchett's I haven't read: '
The Amazing Maurice and His Educated Rodents
' which I bought on Saturday during my first visit to a second hand bookshop since all the lockdowns began. Went in needing no books and came out with four: so far, so predictable. Made up also to find a copy of an
Unseen University
edition of '
Reaper Man
'. Will have to find a nice home for my old paperback copy now I've go my hands on that. Not sure how many books were printed in these
UU
editions but I've now got four anyway.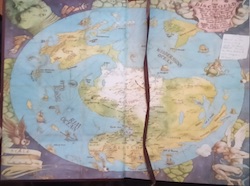 Map of Discworld in the Unseen University 'Reaper Man'

Getting back into a second hand bookshop was excellent. Finding myself new (and old) Pratchett's even better. Now I need to get me reading and writing going. I can do it.

Yeah, but will I?