Pain and the Angry Hourglass
It was my turn to judge again for the always fabulous
Angry Hourglass
challenge run by the lovely Rebecca - aka Lady Hazmat. "
Lady Hazmat
" seems quite apt for some of the stories in this week's challenge a mix of nasty and nice: chocolate coated arsenic.

The photo prompt was from
Ashwin Rao
as usual and was of a lady doing yoga against a city skyline (of Seattle, I think?). It's always amazing how different the stories can be from the same photo and this one was no different from usual, but how do you get so much murder and mayhem from this photo? Well, you just do. We're a weird bunch us writers aren't we?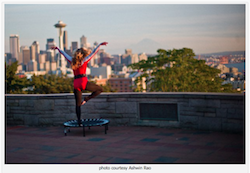 I've been in quite a bit of pain due to a
dodgy knee
this week, breakfasts of Ibuprofen and lunches of Co-codamol so I was relieved to see fewer entries to go through this week, though I don't know why it was lower than usual. Just a coincidence when I needed it. Or perhaps the photo just inspired
too much death and destruction
for people to handle.
Anyway, I've done me
judgy thing
, sent off the results and I await the posting of them later.
Thanks to all who entered for the great reads.
And thanks to those who didn't for leaving me with a little less to do than usual. In other news... my knee is getting better.
Huzzah!
And if you ain't seen it before get on
Angry Hourglass
it's every weekend and you get a whole 36 hours to get your 360 words down. It's always a high quality of writing and so is a tough one to win, but anything difficult is all the better when you succeed. So...
Keep writing folks!