Last Open Mics of the Year
The Dizzy and Metrocola - The Two Last Open Mics of the Year



I expect that Monday and Tuesday last week were the final two open mics of the year for me. On Monday it was the Dispensary, which is currently my go to OM. There were only five people who played this time – and the host, Dave was suffering with a sore throat so didn't play this week. As there were only a few of us we all ended up playing a bit longer than usual. In fact at eight songs this week it was a full on gig for me.

It was a good night with the other players including regulars Laurence, Ben, Liam, and Calvin. It was good to see the grin from Muzz who cam in later on having just been awarded her purple belt. Well done, Muzz.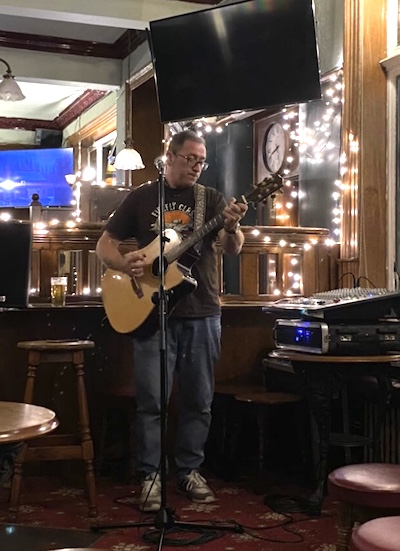 Me and me Takamine in the Dispensary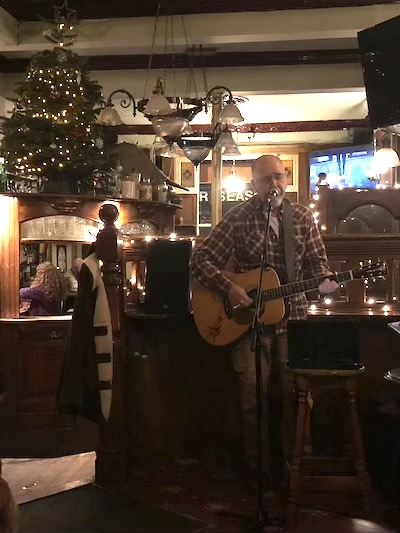 Laurence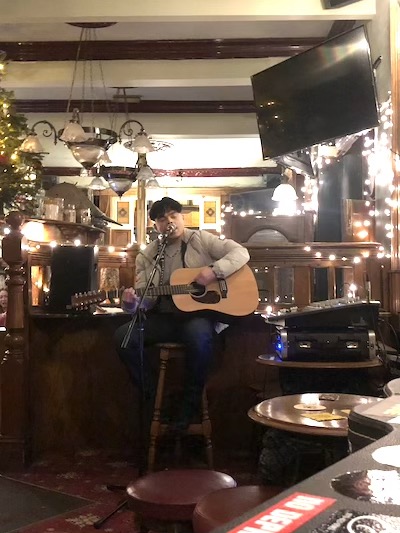 Liam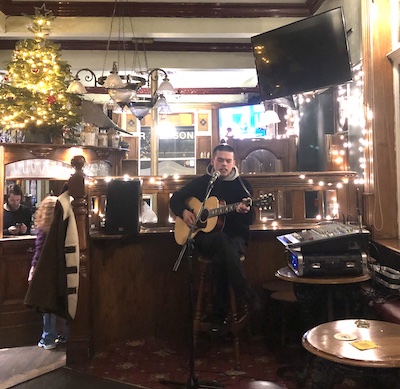 Calvin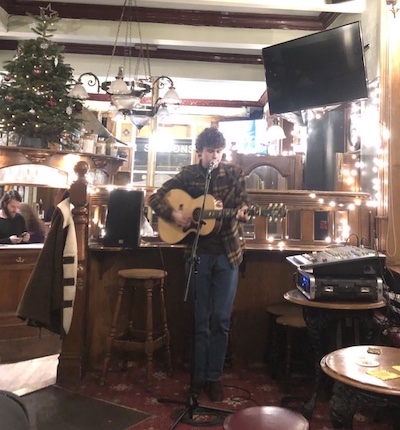 Ben


On Monday I talked to a couple of the lads about the open mic at Metrocola the next day. I'd gone to the first one, hosted by Ali Horn, and there was a massive 16 of us who played. But I was told it wasn't as well attended since then. Ali wasn't available this week and it was to be hosted by Bert.

And so it was to show support I went to Metrocola. Flippin' heck. I'd been misled. There were plenty of performers there; including Laurence, Ben and Calvin. There was also a party of youngsters downing cocktails and either dressed for a proper night out, or wearing Xmas jumpers. In short: not the usual open mic audience for me.


Calvin playing in the Metrocola
Laurence playing in Metrocola
Laurence played shortly after I arrived and was going through plenty of sing-along tracks and the cocktail party crew were lapping it up, singing and dancing. Boy, that got me thinking. Largely I was thinking, "
What am I doing here? And what should I be play if I do go up
?" I was also thinking that I wish I hadn't bought my guitar with me, as then I could have said I'd just come to watch. It's difficult to say you're not there to play when you are lugging a guitar around.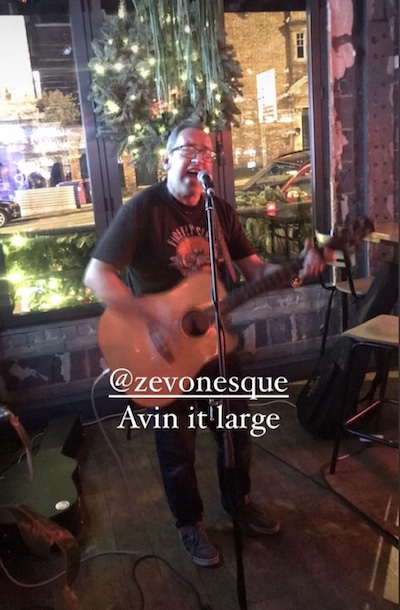 Me playing at the Metrocola
As Laurence neared the end of his boxset Bert asked me and Calvin who was going up next. And after some prevarication I lost, I think, and ended up playing. I did three songs in the end. I started with the "
One I Love
" by REM as it's one of the few ones I play that people may know and/or sing along with. Then I played two more "
You Couldn't Get Arrested
" and "
Oh My Sweet Carolina
." Then I got off and left it to Calvin. I'd survived. Though I'm sure it would have been better for the audience if I'd played some Oasis, Maroon 5, and Stereophonics. Maybe I better learn to play a few more famous songs. Next year I'll be playing
Wonderwall
then. Perhaps not.

I'd finished my drink (free for playing) and headed up to the bar for another pint and chatted to Laurence. Ended up waiting forever as the couple behind the bar struggled to keep up with the tsunami of cocktail orders. I couldn't see an end to the wait and suggested going over the road to the Roscoe Head. Laurence concurred and soon I had a pint of Thornbridge '
Galaxia
' in my paws. It was worth the wait. Ended up with a couple of pints there chatting all sorts with Laurence and, in the end, Carol (the famous landlady) too. I was pleased to have introduced Laurence to the Roscoe. It's one of only five pubs in the UK to have made it into every single CAMRA Good Beer Guide dontcha know!?



So two open mics; two very different ones. And eleven songs. A good couple of evenings. I expect it won't be until 2023 that I play one mic again (and the next Dispensary one isn't due until the end of January). Maybe by then I'll be playing a song or two of my own. To that end I've just read my second Jeff Tweedy book, "
How to Write One Song
." An inspiring read. That is my aim for early next year. Let's see.