Back at the Key
Great to reappear at the
Keystone
this week after a month or so of missing it (largely due to Liverpool playing multiple matches on Thursday nights). John was the hoster with the moster once again. Always a pleasure to talk to – and to listen to play his beautiful songs. We'd moved from the front room into the adjacent one between the stairs and the conservatory which worked really well. There were plenty of performers there again and so everyone had a maximum of three songs when up there.

I think I was about the fourth or fifth up. I'd purposely held on to my pint glass tightly to that point so that I didn't knock back too many before getting up – one glass too many and the risk of forgetting words or muddling up is greatly increased. Despite this I'd still had about four pints before getting up and was at risk of issues. But as it happened I performed three of my usual songs as good as I ever have (I think). The usual were:
'Oh My Sweet Carolina', 'Heart Breaks Like the Dawn'
and (as requested by John) '
You Couldn't Get Arrested
' – same as last week at the
Angus
.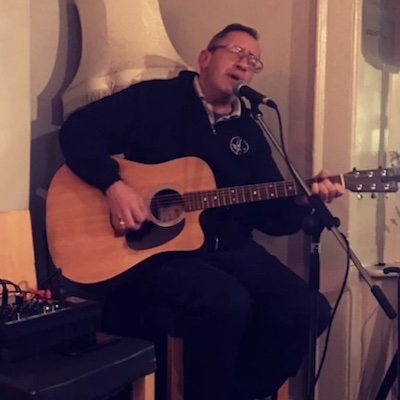 Really enjoyed playing and watching everyone – and the pints of
Chapter Brewing
'
Tenta Temos
' and '
Mahog'un
' – there was a fifty-fifty mix of regulars and newbies. A most enjoyable evening. Of course, I keep saying it but yet to do… I need to write a song or two to perform and/or do some new covers. It WILL happen. Honest.