Wordle Wondering
20/01/22 14:49 Filed in:
Wordle
Last week I succumbed to the ubiquitous
Wordle
, as so many people have, and have since done it 8 times. I got the word every time in between 3rd and 6th attempt. I actually put off doing Wordle despite seeing it all over Twitter for a month or so and loving word challenges. I didn't want to do it initially as I thought it may be yet another thing to waste my time, which I don't need. I used to play
Words with Friends
with a few mates and relations but it gets to the point where you are wasting far too much of your day playing the thing. People can get a bit twitchy about not having you play your turn quickly after theirs – and you can get the same way. If it gets to the point where you're playing more than thirty minutes of every day it really is something that gets in the way of better things; like writing, reading or playing the guitar (or just about anything else).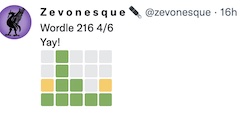 But when I realised that it was just a single game a day, which should take just a couple of minutes, i went all in. It took me a week to realise that the 'Share' button when you finish did not in fact share the graphic bar chart with your results next to the button, but it created the infamous coloured box record of your games that day. I thought people were using the emoji boxes on Twitter to recreate them. So yes, for a week I faithfully wrote a Tweet out using that method rather than just pressing the share button. Well I know now!

The other thing I only realised yesterday was that letters can be repeated. I thought they were all made from letters used just once until ROBOT came up on Thursday. Until then all the words I'd done had no repeat letters. So that's a third thing I've learned (along with it being a quick and easy thing to do each day – and a lot less time intensive (or full of adverts) than WwF).

If you fancy giving it a go a new word comes out each night at midnight (GMT). And the challenge is at a website not in an app:

https://www.powerlanguage.co.uk/wordle/