Tuesdays Are the New Sundays at the Angus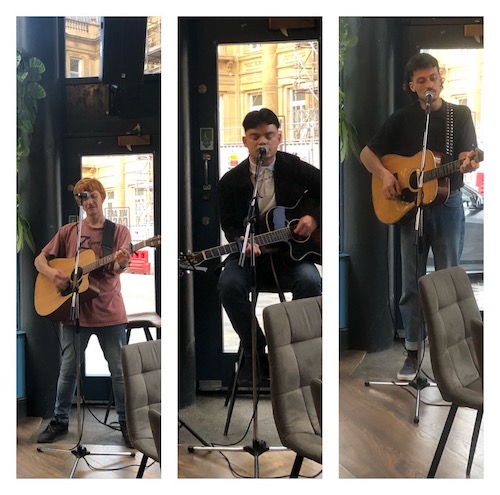 After a couple of weeks without going out, partly due to Covid, I was relieved to get out to this week's open mic at the Angus. After running it a couple of times on a Sunday it had been decided to move the 'mic to a Tuesday night. It was thought that there was a good chance there would be more people able to make it – a lot of the crew that regularly turn out for John Witherspoon's night attend the Jacaranda on a Sunday. The first Sunday event was run by Mike Blue as John was booked elsewhere, and there was only me to play, and on the second one there was just two of us in addition to John (me and Mark Lacey). Definitely a good move to change the day.

It was going to be interesting to see how many people turned up, and who from the usual Keystone/Belvedere regulars would turn up? The answer turned out to be: nearly everyone.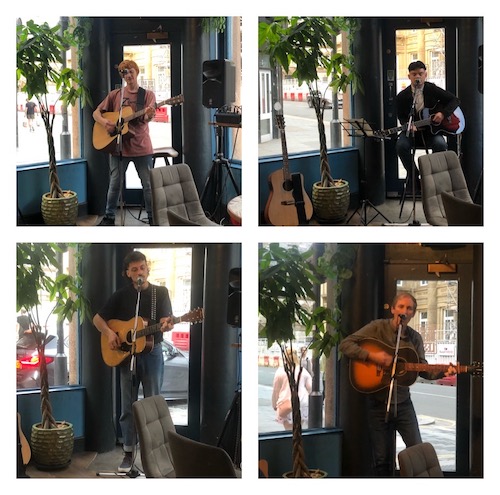 Having a 'few' more there it meant I wasn't first or second up after John. Nope I was eighth up: and not even last. I guess that counts as a very successful night. There's a lot of familiar faces in the photos including Ollie, Guy, Liam, Bert and co. All top people and performers. Great to see the Angus open mic getting the number of people it deserves. Tuesdays are definitely better than Sundays (despite being a working day). The sound system in the Angus is fabulous for these events and it is a great place to play; oh and they have real ale on too (I was on the Beartown '
Bluebeary
' for the evening).

It was another warm one so I was unusually without a jacket again and wearing my old Wilco T-shirt from the '
A Ghost is Born'
tour (2004). I definitely make my T-shirts last (or to be fair I just flog them to death). Unfortunately I couldn't exactly channel Wilco with my playing. Everyone played three songs and so did I with two of my usuals '
Oh My Sweet Carolina
' and '
You Couldn't Get Arrested
' – and a new one for me, '
Please Stay
' by Warren Zevon. Definitely need some more practice with that one, but it was great to give it a run out in the wild. Next time it'll be better. And it was nice to hear people singing along with You Couldn't Get Arrested.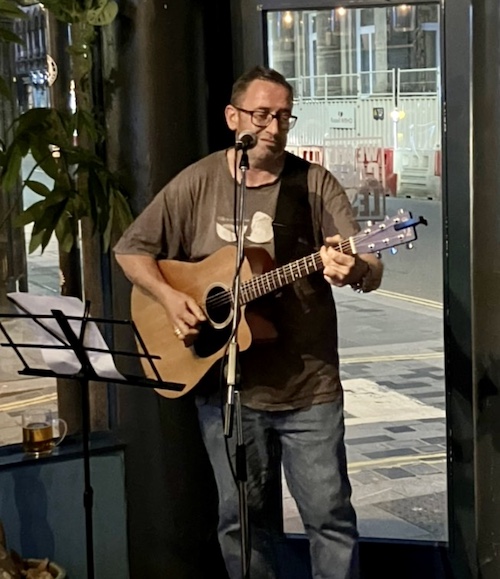 The T-shirt may be dying but it's okay because 'A Ghost is Born' - at the Angus 12.07.26

I hope to be there next time. It's fortnightly not weekly so thankfully we won't have to battle the heatwave this coming Tuesday. Small blessings, Tuesdays are the new Sundays: it's official. Oh, and this coming Tuesday what's on at the Angus and who will be facing the forecast mid-30C heat? Yep it's only John Witherspoon himself for a launch of his new single '
Shame
' – Ollie Felton will be supporting him (not entirely sure whether that means playing some songs too or just spraying water at John at regular intervals).