Fantasy Footy's Nearly Back
The football season is almost upon us–I know, it already is for some none Premiership footy fans, but I'm talking Liverpool. Anyway, I'm also talking Fantasy Footy. I've done it the last few years. Generally the better Liverpool do, the better my team does. Stands to reason with the reliance on three players from Liverpool every time. Just put up my provisional team and the most difficult thing was picking which Liverpool players to pick (on the Fantasy Footy League I'm in you can only pick a maximum of three from any one club; I do the
fantasy.premierleague.com
one).
How could I not pick Robertson or Allison? I ended up going for Salah, Firmino and Keita. I wanted Mane but couldn't afford him, and maybe Origi is worth a punt or Ox; this football management lark is quite difficult.
It asks you to select colours for a kit. Of course you could ignore it. But then again you could just select: red, red, red, red.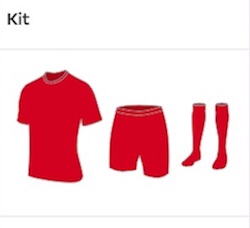 May set up a league for VSSers. But not sure how many would be interested. Need at least eight to make the league look like a league and not just a match.
I've selected a crap team name. And defo need to change that before the season starts–now that's not a problem a manager usually has (unless he's at Hull). Something based around Six probably.