Keystone Two Twenty Three
Yesterday I made a later call to go to the open mic at the Keystone. This is just the second one, run by John Witherspoon, and only one week after the previous open mic too. The Keystone has so many events on during the week that there needed to be some changes as there was a Cinema Club upstairs (showing the Hitchcock, Jimmy Stewart/Kim Novak's 'Vertigo' I think) so instead of the front room of the bar we were sent into the depths of Bar 23 to avoid noise cross over between the two events. The downstairs proved to be a great space for an intimate performance.


This week there were possible a couple fewer people up for playing but not significantly (I think it was 8 or so after about 10 last week). Several of the guys (including me) were repeat offenders from last week but it was good to see a few new guys too (including a great guitarist who I'd previously seen at the last Head of Steam open mic). There was a great mix of folk, blues, jazz and pop (and all points in between) and plenty of humour too. Many of the performers were doing their own songs rather than covers and thus showed off their talents even more.

I stuck with tried and tested songs (though somehow I still managed to fook one up):


'Oh My Sweet Carolina'
-
cos it always gets me going in the right mode/mood

'Somewhere Down the Road'
'Whiskey In My Whiskey'
'Heart Breaks Like the Dawn'
and

'Splendid Isolation'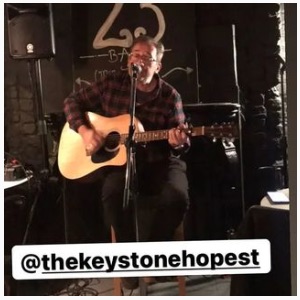 Out of all those songs the easiest - and the one I've probably played the most - is Warren Zevon's 'Splendid Isolation' and yet somehow I got lost for words in it. Yet it has so few. I'm not entirely sure what happened to be honest. Anyway I did between 4.5 an 5 songs; which is more than I usually end up playing. Maybe I should stop at 4 in future though.

It was a really lovely night with great songs and camaraderie between everyone there and I'm glad I made the rush effort to get into town to show up again. Not sure whether I'll make it next week but having made two appearances now at the Sanctuary, Head of Steam, Angus and now the Keystone then I've gone above and beyond anywhere I'd have thought I'd have made it to. I still have to thank the beer makes for the Dutch courage provided is a necessity: I always need to be on my second beverage beverage before getting up. The lovely cask on last night included 'Taller Than A House' Chapter Brewery, 'Forecast (Bullion)' Neptune Brewery, and 'Kandata' Chapter Brewery (which came on when Forecast was drunk dry). Nice beers all.



So thanks again to the Keystone and John Witherspoon for a cracking night all round.

_____________


The next day we found out that whilst we were having such a good time on Hope Street a young life was ending when a 12 year old girl – Ava White – was being murdered by children barely older than her just 0.7 miles away from where we were. There really are no words.