September Sofar So Brilliant
Was lucky enough to get a ticket for the Liverpool September Sofar Sounds night which was a quite lovely bijou affair in Prohibition Studios on Arrad Street just behind Hope Street. It is just a few doors away from the Keystone, which was just about my favourite Liverpool hostelry for a year or so. It was a sad day when that passed away. I did go a few times and play at the Keystone open mic, which was hosted by John Witherspoon (who I didn't know prior to these sessions). One of the singers I met there was the gentle fingerpicking John Lindsay. A good guy and a fab singer, so I was pleasantly surprised to find that he was one of the acts on the night.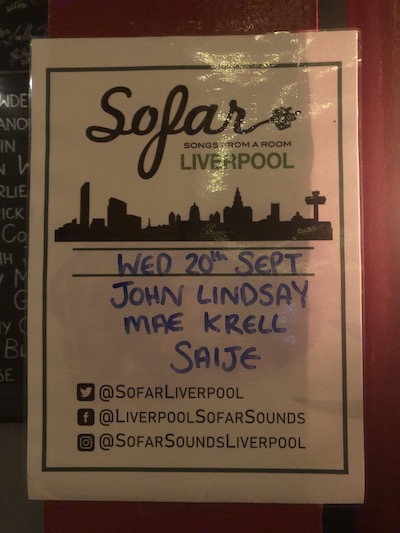 He's definitely come on as a performer and had good line in top banter. He's playing Jimmy's this Saturday to celebrate a) his new album (it's on a credit card/USB combo), and b) his leaving of Liverpool. He's only in town for a few weeks before heading back to the far east. Anyway have a listen to his lovely tunes and if you are near Jimmy's on Saturday then pop in and see him (playing upstairs with Ali Horn amongst others); he'll love you forever if you do.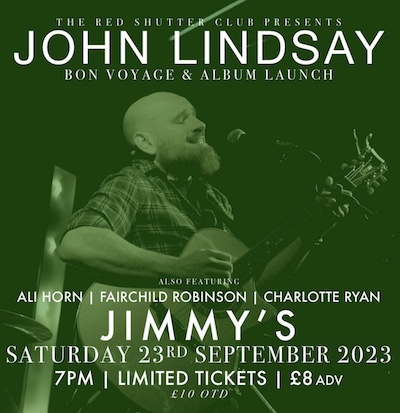 Second up was a singer from slightly further afield: Mae Krell from New York. Again playing an acoustic guitar (a small old one (hey, I know my guitars)). Her singing voice was lovely to listen to and belied her origins and her speaking voice. I don't mean there was anything wrong with Mae's speaking voice, it just didn't tally. Of course accents usually don't come across that strongly in songs. Her songs were nice stories and enjoyable to listen to. Definitely give 'Garden' a listen to (it's on Spotify link below). I also particularly enjoyed the song featuring her dog, Apollo. She's played a few Sofar Sounds around the UK and I guess she'd have gone down great guns at every one.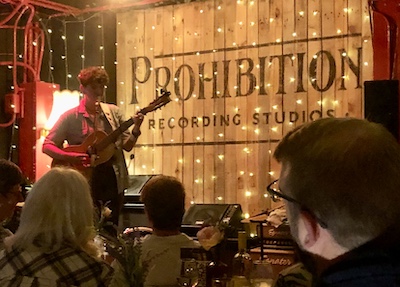 Finally it was the return of Saije to Liverpool. They apparently plaed at a Sofar gig in the city in June. I didn't make that one. The band comprise a guy and a gal from even further afield than New York who both play acoustic guitar. Saije (pronounced Sage) are from the east coast of Australia and have been touring all over Europe this summer. Their voices compliment each other brilliantly, with the first song in particular giving me a Of Monsters and Men vibe. I liked the way the guy played cymbals by having a drumstick tied to the guitar stock. Haven't noticed anybody else playing percussion like this on stage before. The final song in French was an instant classic. Bon-bon indeed.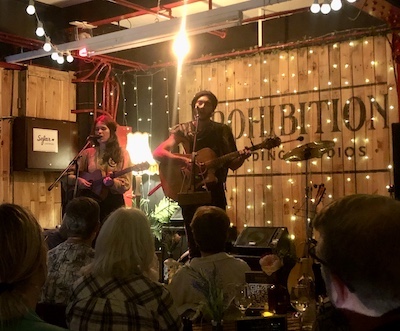 I'll definitely be giving all three acts a listen on Spotify (links below). If you do get the opportunity to see them (or purchase their albums (in CD, Vinyl or Credit Card form) do so.

P.S. Jen did a mighty fine job hosting the night.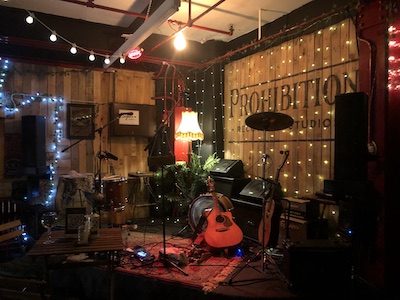 John Lindsay spotify
Mae Krell spotify
Saije spotify