A Globe Trip
London: The Globe Trip


Only had one night there but had a cracking quick trip to London. Had the £10 Virgin tickets to London. The hotel up near Arsenal wasn't up to much but everything else went swimmingly!

The trip started well. A full English in the Shiraz in Liverpool then off to Platform 8 for the Virgin train to London. Ended up sat next to a woman on her way to Zambia for a trip with students from the University of Central Lancashire. Had a nice chin wag about traveling and reading. She was reading Lord of the Rings in paperback.

A guy who got on at Stafford overheard us talking and joined the conversation. Turned out he had some books with him. That he'd written. Cool! And who was he? Leaf Fielding. Okay, I hadn't heard of him either. But that's what Google is for. Flip! Think I'll have to buy that first book now.

I'd booked my ticket for Nell Gwynn at the Globe the previous night and went for the standing option. Glad I did. Standing was fine (no different to going to a gig (including have the issue of tall people in front of you). The play was brilliant laugh out loud fun. It was designed for the Globe originally and it worked fantastically. Didn't know the lead, but she was excellent. A few of the actors I recognised from the telly.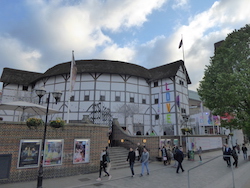 Talking of which I sat next to Mark Rylance in the Swan Bar before the show (yep, Wolf Hall and all). Rubbing shoulders!

On Tuesday it was a quick walk around the Emirates stadium, home of Arsenal. A bit antiseptic as a new build stadium, but worth seeing as it was round the corner from the hotel. Then on for an hour walk around the never to be missed British Museum, before heading to a few pubs... including the oldest surviving pub in London the George Inn (near the Globe actually) and then up to Pimilico for Cask, and to Euston for the Bree Louise and the Euston Tap.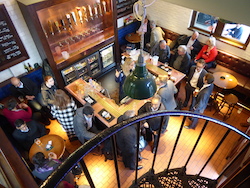 A great trip.

Uploaded some pics onto
Flickr
. First time I've Flickred for ages.