Revisting Angry Hourglass
It was Open Mic No.6 at the Sanctuary for me last night. There were a couple of guitar issues during the evening (starting with a complete lack of one for a while) but I managed to perform three songs. I didn't use the mic either - so I'm not sure what the event night should have been called.

Played three songs I've done before:


'

You Couldn't Get Arrested

' - Green on Red

'

Somewhere Down the Road

' - Chuck Prophet

'

Hotel California

' - Eagles

Like last time there were two new (and very experienced) guitarists who came along and did their stuff; word seems to be spreading. Enjoyed it as ever.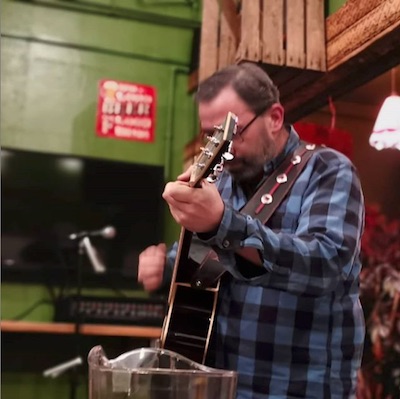 Matt Holland started the night of reading some of his stories and when the second guitar issue occurred I went up to read a couple of my flash stories. Not having my Kindle with me I had to find something online so I headed to Angry Hourglass to look for some of my stories. It took me a while but I found a few and chose two of my 'winning' stories (although on the drop down for winners there is no A.J. Walker for some reason).

Not sure how many times I won on the challenge (think maybe it was four or five times), but I still remember the first time I did win - I'd had it as a writing goal that particular year to win AH at least once - I was so made up when it finally happened.

The two stories I read yesterday were the apt
'
Taking Names'
(April 2015) and the less apt but fun
'
Sanderson Filibuster's Amazing Shopping Emporium (somewhere off the beaten track)'
(December 2016).
I was intending to upload some old flash on this site under the new 'Writings' section so this seems an appropriate time to put some up. They are both 360 word stories which show what you could do with respect to flash if you are contemplating getting involved with the
Seedling Challenge
this - or any other - week.