Ale M. Banks
It's a little bit beyond Limboland for some hostelries now. Well for those that have outside areas to utilise - and in cities that is not many. That said the weather for the last few days has not been inviting to all but the hardiest punters and on Monday the rain and wind was so bad many bars and restaurants sensibly decided to shut up shop for the day. During the last few weeks some places have been able to provide heaters which is nice - as the sunshine has been intermittent at best and not exactly cracking the flags. It's a shame heaters have been needed from the point of view of the bills for the bars (like they need another bloody expense right now) and from the environment. But it's England not the Mediterranean Riviera so heaters it is.

I've managed to get to many of the very few city centre places that sell cask and have outdoor spots. When I say many it is a relative term with so few real ale places able to open at all. It's been a bit of a mixed bag in some ways but largely those that have opened have been very good. My particular favourites have been the
Keystone
(on Hope Street), the
Coach House/Hard Times
(on Maryland Street) and
The Bridewell
.

If I've been on my tod I've been happy to let someone come to sit at the table of course: who wouldn't? And I've met some lovely people either as 'guests' on my table or others on adjacent tables. To be able to have a chat and a laugh has been quite liberating for a lot of people I am sure.

One of the most surprising outcomes over the last couple of weeks is how many
Iain M. Banks
fans, and fans of SF in general, I have met. I have been attempting to read a book of essays and interviews about the Iain M. Banks SF books in these places and the amount of people who have commented on the book and then about their love of the books has been incredible.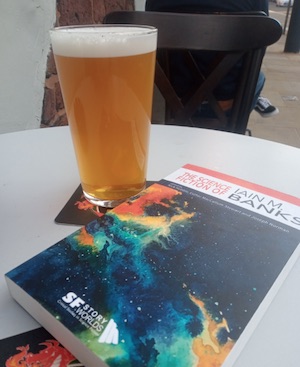 Obviously fans of real ale are discerning individuals anyway, but it turns out they are even cooler. I've not managed to finish the book yet partly due to ending up being in happy conversations about The Culture (and none Culture) books. Looking forward to finishing the book and reading re-reading some of Banks's books. But I may have to carry this book around with me just to see how many other fans come out of the woodwork.

Here's to real ale outside of a pub: and even better IN one. And here's to Iain M. Banks and the fans. You rock!

In the meantime if you don't know Iain's books or only know
The Wasp Factory, the Crow Road
or
Whit
or anything from the telly then do yourself a favour and dip into
The Culture
- apparently all the best ale drinkers are (and me too). These are his Culture books in chronological order. But there is no need to read them in order:

Consider Phlebas (

1987)

The Player of Games

(1988)

Use of Weapons

(1990)

The State of the Art

(1991)

Excession

(1996)

Inversions

(1998)

Look to Windward

(2000)

Matter

(2008)

Surface Detail

(2010)

The Hydrogen Sonata

(2012)

Happy reading.