Winner Winner Not Chicken Dinner
Been a few months since I've won something on Twitter but this week, which has been pretty crap in other ways, has been made better by TWO wins with a book and a CD winging their way to me.
First I won the soundtrack for
Once Upon a Time in Hollywood
from FACT in Liverpool. Only listened to half of it so far, but it is fab. Then today I won a brand new book; '
Bottled
' about alcohol and its relationship with English football (players and teams). Looks like it'll be a good read.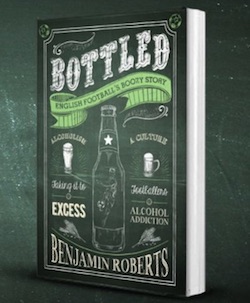 Now they say things happen in threes. So I better find another Twitter competition or two.
Yesterday I was waiting for a replacement van to be delivered (don't ask). Cleaned the van out, took photos and all that then waited. Expected them to come in the morning or maybe lunchtime–I mean who wants to be working late on a Friday? What time did it arrive? 8:30pm. FFS. I hadn't gone out, having to wait, and was starving. With all the KFC coverage yesterday I fancied some fried chicken but by the time the van arrived that mood had gone. Ended up with a beef green pepper and black-bean sauce. Wasn't the best. But no doubt better than the KFC.
Anyway, I'm of to Twitter to look for another comp.