Continuing CSOTD2
Class Song of the Day has continued unabated - it's a good job I like a lot of bands. With the latest being the wonderful Canadian band
Barenaked Ladies
who consistently record fab albums and are great live - although I last saw them many moons ago when they played in the Royal Court, Liverpool (so I guess that would be mid-1990s!).
Of all the bands and singers I've had so far in Year 2 there are only the Beatles and Warren Zevon who I haven't/can't seen live (although I did see Paul McCartney when he played Anfield in 2008).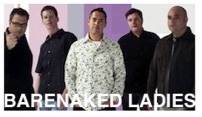 The bands coming over the coming months will include a lot more bands that I haven't seen because I can't be everywhere or every-when.
It's my birthday week next week and whilst the No.1 when I was born was the Beatles '
Hey Jude
' I won't be having the Beatles again next week, but I do have it all set up with one of my favourite bands from when I was a youngster. But that's next week and you'll have to wait to see who they are. In the meantime enjoy the songs from the Barenaked Ladies and all the other bands above with links on the
CSOTD2 page
.