Tentacles & Alt. Flash Futures
The Flash Feed was a little late going up this week after a comment that the numbers who'd entered last week's challenge was low and that participation was in general declining. I feared that perhaps the last one would end up being the actual last - and I'd end up being a St Bernard for ever. But the photo prompt came up and it was another lovely shot; they have been choosing some lovely photos.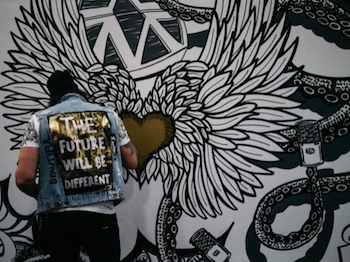 I'm hoping the challenge keeps going. It does take a while for them to get into their comfortable niche. It took Microcosms quite a while but recently it has been going from strength to strength. I think of the Flash Feed prompt as being closer to Angry Hourglass than anything else - partly because there are several days to write it, the length of the pieces and the strength of the photos. The main difference is that the challenge is not judged and maybe some of the flashers prefer to be able to 'win' a challenge, I don't know. Adding a judging element adds another level of difficulty in keeping it live - ie more people and more time input. Personally I don't mind not being marked as a winner or an also ran. And in any case the community still can make comments so you still get feedback.
Long Live Flash Feed!