A Very Good Evening
Last night was Open Mic #4 of the Sanctuary Zoom Open Mics. It was the oddest one. Lots of people couldn't be there due to life commitments and/or watching Chelski v Man City. So as it was there were only three of us online rather than the usual nine or so. In addition to myself there was Matt Holland (.author.com) and Rebecca. Matt does stories and Rebecca does audience–and does it very well. Yeah, I was the only 'musician'. At least until the end of the night.

It was almost nine when I logged in. Despite the low attendance there was never the question of cancelling it and we had a good night. Matt read a couple of old stories and gave us a trial run of a new one he's working on. And I did at least eight songs, which I'll list below. Other than that we reminisced about pubs and drunken exploits and talked about if and when we'd go back to the pub again.

All this with one eye on our phones to see how the footy was going. When I left the commentary after twenty odd minutes City had been on top. But football is a funny old game and if they failed to win Liverpool, after their 4-0 thrashing of Palace the day before, would be Champions for the first time in thirty years. As the designated old git at Open Mic I'm one of the only ones who was alive and going to watch Liverpool back in the 1980's when we won all that came before us. I could understand the excitement of the youngsters not there at the evening's possibilities.

As it was, of course, Chelski scored first and it was 1-0 at half time. City equalised with a worldy free kick… and then a sending off and a penalty gave Chelski the game. Liverpool were fucking Champions of absolutely everything (currently holding the European Cup, the Super Cup, the World Club Cup and now the Premier League Champions): it's not been a bad year. If you discount the coronavirus (or indeed only count the footy).

At this point the Zoomers all left to go to their doors or windows to hear the singing, watch the fireworks and hear the street noise. It was brilliant. I just wish my dad was here to have shared in it. A day so long in the waiting. Back in the early 80s before I had a Season Ticket myself my mum and dad would take it turns to take me to the game with the parent and child ticket. As well as going to several games with both mum and dad. Mum was a red, dad was a fans of the Sons (Dumbarton to you). He'd have enjoyed the day and celebrations immensely.

Getting back onto Zoom it was time for another bottle of beer (I was drinking Platform 6.1 and Oakham Citra) and I played another song or two.

Niall came on from Dublin looking suitably very happy and gave us a rendition of You'll Never Walk Alone–which the rest of us did our utter best not to wreck, but probably failed. The night ended after much talk about football, beer, celebrations, fireworks, car horns and the wish to be able to celebrate it properly at some point.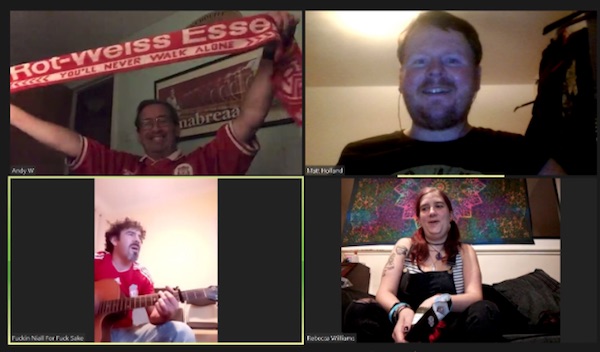 We all decided 1:30am was late enough and called it quits. We'll probably change the day next week as next Thursday it is the Man City game–guard of honour and all that. So maybe it'll be on Wednesday or Friday. Either way I'm sure there will be more than three of us (with a late a guest appearance). We shall see.

My setlist (for it must be as set once you're over five songs, surely?) comprised:


Homeward Boud

You Ain't Going Nowhere

Down By the Water

Congratulations

N17

Hotel California

Somewhere Down the Road

Sweet Carolina