Gathering Pre Brexit Cups in May
Other than the odd Friday
Microcosms
I haven't written much over the last month. There's no excuses. Well, there are plenty but I can't be arsed using them. Just bloody put some words down fella!
On the day that Liverpool have learned they are to meet the Bundesliga team
Hoffenheim
in the Champions League Qualifier I'm currently reading '
Here We Go Gathering Cups in May
' (edited by Nicky Allt). It is a series of memoir pieces about each of the
seven
European Cup Finals Liverpool have reached with a different writer for each of the finals:
Contributors:

Nicky Allt,
Tony Barrett,
Jegsy Dodd,
Peter Hooton,
Dave Kirby,
John Maguire and
Kevin Sampson.

It's funny reading the stories of football (and football supporting) past and even more past. Some of it takes me right back whilst it's also an eye opener on how different the events can be for different people in the same place doing the same thing. I'm half way through so haven't got through to the legend that is Istanbul yet, which is the only European Cup Final I've been to (although I also went to Athens for the Final in 2007 but didn't get a ticket or get in (which is not necessarily the same thing)), but it's making me think that I should write my Istanbul experience next as one of my Limited Edition
memoir
pieces.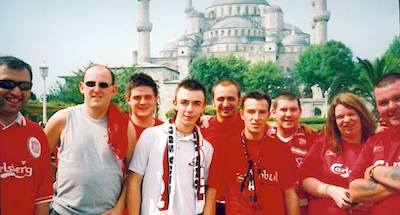 Reds (and three Italians) beside the Blue Mosque.
Reading this as the draw for the cup was made makes me want to get on the old Football Special to Hoffenheim, well maybe not. But I've loved going to watch footy matches over in Europe (random matches not Liverpool ones) and met some good people through that; especially through the European Football Weekends crew.
In the Allianz Arena, Munich for an 1860 match (before getting the train to Salzburg for another match).
I'm off out shortly for a mooch and will be with camera for photos, pounds for ale - and a pad and pen for getting some words down.
Word.
Remember folks,
You'll Never Walk Alone