Whiskey in my Whiskey
03/05/19 19:12 Filed in:
music
Ollie turned up about 2 hours late (due to a job interview; poor excuse), which meant the normal opening act was not available. As the guy that normally comes on second it was therefore up to me to move down the list, which seemed fair enough. Whilst I'm still trying to get better an early relaxed little session is a a good thing.
Ended up playing five songs:
Somewhere Down the Road (Chuck Prophet)
Down by the Water (Decemberists)
Whiskey in my Whiskey (Felice Brothers)
Heart Breaks Like the Dawn (Chuck P)
Sweet Carolina (Ryan Adams)
Bobo came on next playing a couple of his bluesy tunes, followed by the newest father of the night: Dave Jones (congrats, new dad!).
Usual suspects followed including Matt Author with a new story.
There were some off mic incidents involving a collapsing woman, and a birthday girl downing an impressive quantity of rum and coke. A couple of great singalongs; including my fave Queen song: 'Don't Stop Me Now'
Roll on the next Open Mic. Always great.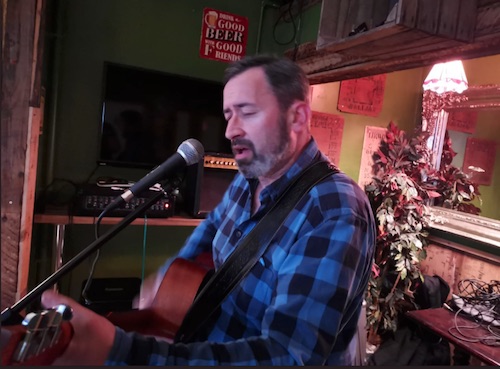 The highlight for me was two people independently coming to me and saying 'Great Set.' I mean, I have 'a set?' Let alone a good one. I've gotta be happy with that. And I am.
Thanks to Bobo and John for organising the night, and Dave tonight for the use of his guitar. And Bobo, once more, for the up-close-and-personal photos.