What Is It With Thursdays?
Last Thursday the second Open Mic of the post lockdown era was on at the
Sanctuary
and I decided to go down again. The last one was packed, but this time there was only five of us there. But I enjoyed it as much – maybe even more – than the last one. Not because of not being busy but because the host, Barry Sutton, was good to talk to – and some of the evening was as much a guitar lesson as me playing a few songs.

To be fair they only announced on Twitter that they were having an Open Mic the evening before, which ain't much notice for people who may need to organise anything or just plan their week. Hopefully next time there will be a bit more notice and it will be a bit busier. It's either that or I'll end up with another lesson.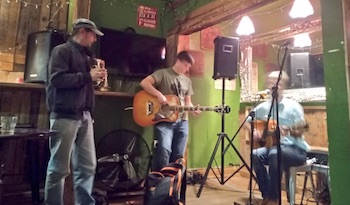 Open Mic in the Sanctuary

Incidentally it is great to see that there are other places starting Open Mic events in the coming fortnight in – and in a couple of my favourite real ale pubs to boot: the
Head of Steam
, and the
Denbigh Castle
. At the moment I understand that the Head of Steam one will – at least initially – just be a monthly event on the first Thursday of the month i.e. first one will be on October 7th. And coincidentally the Denbigh Castle one will also commence (downstairs in the pub) on the same date. The intention is that this one will be each week.

I'm not sure how often the Sanctuary one is intended to be. But just like the two upcoming ones it is on a Thursday too. What is it with Thursdays?