Sofar
On Wednesday I went to my first
Sofar
gig in Liverpool. Don't worry if you haven't heard of them, that's not the name of a band, but the name of the events. It is a nice idea which has spread world wide and includes a few cities in the UK. The ethos is to go and have a nice time and actually listen to the music and not chat all the way through it about what's been on the TV or the latest football: watch and listen to the band. And talk and get your drinks in between the sets, rather than disturbing the gig for those around you. Boss.

You pay your £10 for a ticket, and then the day before you get an email telling you where it will be. In this case the event was held in a place I hadn't been before called '
Slate
' which is within
Tapestry
– a large building up behind TJ Hughes. There's apparently always a bar onsite (unless they tell you otherwise) so it's not a BYOB gig.

Met someone I knew who likes live music – and it turns out helps out with the event – and then went up the stairs to Slate, which turned out to be a nice space for some music – with a small bar at one end of the room and the area for the bands marked out with some simple lighting, and the instruments and amplification all laid out at the opposite end.


The three Sofar acts - Liverpool 22.09.21

There were three acts who played, who I hadn't seen before. Namely,
Christie
a local singer songwriter and
Ahmed Khwata
a songwriter from London, with the last act being
The Heavy North
– a local five piece bluesy outfit. I really enjoyed all of them. Christie and The Heavy North were both playing the
Smithdown Festival
at the
Handyman
on Friday (with Heavy North being the headliner).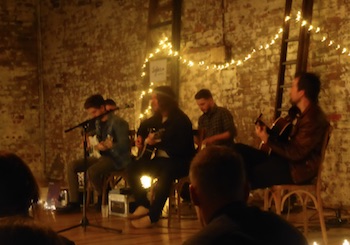 The Heavy North

The whole gig wasn't that long (first act on around 8pm and last song finished around 10:15pm – okay for a school night) with the acts each only playing five or six songs. But it was a really intimate gig with an attentive and respectful audience and I really enjoyed it. And I'll definitely be there again, well, not
there
as I don't yet know where
there
will be.

Rock on.

_____________


sofarsounds.com/liverpool