A Quite Different Open Mic
08/04/19 17:22 Filed in:
music
Last Thursday I was at the bi-weekly Open Mic at the Sanctuary once again. Whilst I was on the way into Liverpool on the No.17 my phone rang and it was Bobo checking if I was coming. His message to me basically being '
It may well just be me and thee
.' It was the first day of the Grand National meet and it was a crap, wet day. In addition a few regulars were either ill, away and/or not answering their phones.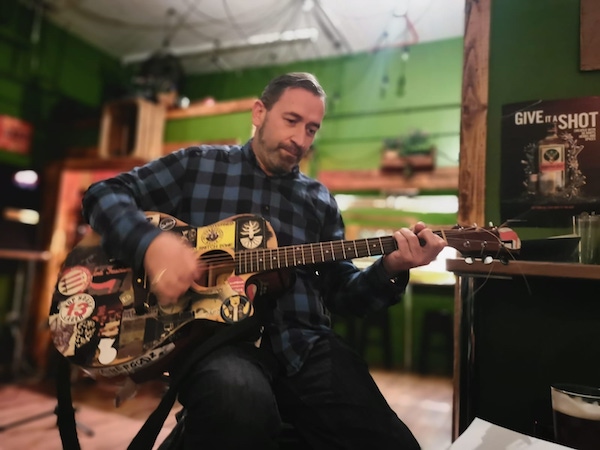 It turned out in the end that there were three of us who played guitar; Bobo, Kevin Zen and me. I ended up playing about seven songs or so including a couple of new ones out there live for me: 'Down By the Water' and 'Whiskey in my Whiskey'



Can't remember my set list completely but it included:


Heart Breaks Like the Dawn

Down By the Water

Sweet Carolina

Whiskey In My Whiskey

Somewhere Down the Road

You Couldn't Get Arrested

One I Love
Even without Matt Author being there a couple of people did readings of stories and poems.

This galvanised me into action and I read three of my poems which I could access from my website after putting them up last week: S
chroedinger's Poem; Night Football
and
New Year Audit
.

And then most audaciously read the
entire
first chapter of my WIP:
The Wobbly Odyssey.
It seemed to go down quite well and definitely makes me think I WILL tidy it up a little and submit it for
Pulp Idol
.

All in all it was a quite different Open Mic night, but not poorer for it.