Calexico and Iron & Wine Gig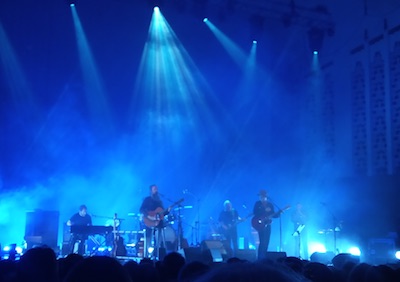 Went to the third gig of the last month. Wow! I say wow because it's also the third gig of the year too (discounting pub bands). Following
Kathryn Williams
in the Liverpool Philharmonic Music Room and
Rival Sons
at De Montford Hall at the Liverpool Uni a couple of weeks ago it was time for another class act (or two really):
Calexico and Iron & Wine
.
I'd last seen them together years ago but seen them separately several times in Liverpool, Manchester and at festivals. And I have even seen Iron & Wine (aka Sam Beam) at the Liverpool Philharmonic Hall before with my sister several years ago. The album they are touring with is
Years to Burn
and is absolutely beautiful. If you haven't got it, what's stopping you? (Okay, stream it if you must)
I had an eventful time getting to the gig. Having a late start at work meant I didn't get home until 18:58. I managed to get showered, changed and out of the house by 19:10 and to the bus stop for 19:14, with the bus due at 19:17. Brilliant. Come 19:30 still no sign of bus and me getting anxious. What this time? It wasn't like there was a big footy match on or anything. Oh no. Theres always something with the infamous No.17. What could it be this time? Well a lady got of a 62 and asked us if we were waiting for the 17, for if we were we'd be waiting a long time as the woman driving it had crashed into A&E at Fazakerley Hospital. I mean, WTF? How do you not see a hospital? Still, I suppose dispensing any injured passengers would be handy and wouldn't tie up any ambulances.
So I had to get to the next bus stop to double my chance of getting a bus - with both a 19 and 17 a possibility. The next 17 was late so I ended up on a 19 and running about 45 minutes late. Meaning I'd get to the Phil about 20:20. I checked on Twitter for stage times… Calexico and Iron & Wine due on at… yep, 20:20.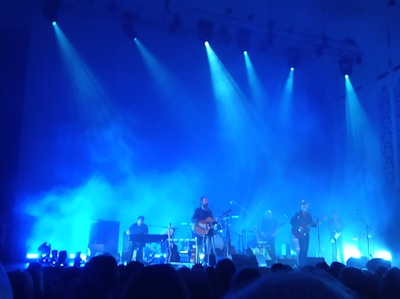 Dispensed out of the bus at London Road and took the ten minute walk to the Phil. I realised I was parched after the long wait and realised I hadn't drunk much at work either. I decided I'd throw myself into the Pen Factory for a very speedy pint. Took me about three mins, including ordering, to get a pint of Dark Star 'Hophead' down. It hit the spot. I speedily passed on down Hope Street arriving at 20:20. Get in! The bar in the foyer had a queue but was handily placed. I needed one to last through the 1.5 hours of the gig (as the bar was closed during the performance (shocking state of affairs). A security guy said 'Sorry, the bar is shut' - my face fell and I blurted out the tale of woe getting there and the hospital jumping in front of my bus and a lovely lady (the loveliest) said 'Go on, get in the queue.' Woo hoo! So five minutes later I had a pint of Love Lane Pale Ale and then went through to my seat. As it happened they didn't start until about 20:35 or so, so I didn't miss a note (though I missed the support, Lisa O'Neill).
Sam, Joey Burns and Lisa O'Neill performing 'Dreams'
I was sat downstairs in the stalls on Row L. Not a bad spot to be in; that said to be fair anywhere in the Phil would be a good place to see a gig. Of course, I'd much rather stand than sit through music but sometimes you don't have a choice. From the first notes of Father Mountain through so many of their songs, and some of the Calexico's and Iron & Wine's, and several great covers; including the Everly Brothers' 'Dream' (sung with Lisa McNeill), and Echo and the Bunnymen's 'Bring on the Dancing Horses', it was musicianship of the highest quality. The level didn't drop.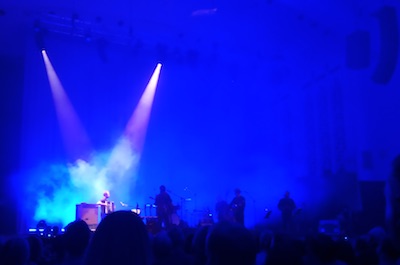 Accordion Solo
Only slightly negative thing for me occurred when three late arrivals, all guys in their sixties, sat down and talked through parts of several songs. And then did some American style Whooping. I mean, NO! I was half expecting a 'Get in the hole'.
They played around an hour and half before I plodded of with a large grin on my face to the merchandise where I got a tour T-shirt and a signed poster. Bit odd this, as I never used to buy merchandise at all - despite years and hundreds of gigs I only have tour T-shirts from
Ryan Adams, Wilco,
and
Frank Turner
. I think a
Calexico and Iron & Wine
T-shirt is a mighty fine addition to the not-even-collection.
If you can get to see them: do so. If you don't know them and are interested in finding out what they are like here's a link to a live performance of '
Bring on the Dancing Horses
'.
Finally I got back home on the No.17 and it managed to get back without hitting any buildings, well not so you'd notice anyway.