Day Twenty Seven: Angry Hours
Day Twenty Seven
back into work, this time
Llandudno Junction
. Considering
Black Friday
has just gone it wasn't half bad and even with an hour delay at start of day I was back for a decent time allowing me to finish Chapter 9.
I ended up writing
2135 words
today and almost 2000 of them were in Chapter 9 and the other 160 were for Chapter 10. Chapter 9 ended with another pub crawl. The final chapter will more primarily involve
doctors and policemen.
Pleased as punch to get to
within 1670 of the target
now and if I continue an even half decent start to the last chapter tomorrow then I'll get to the 50,000 words then. So I'll finish the #NaNoWriMo challenge with a couple of days to spare. Huzzah!
And for a laugh I even went and wrote another 360 words with a silly entry for
Angry Hourglass
(Round #117). Me, a silly entry? I know. Hard to believe, but true.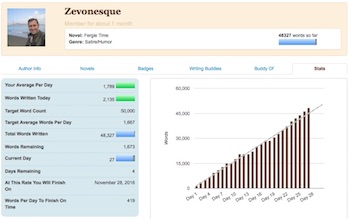 WC: 2135
Total WC: 48,327