Flash Feed 1.17
Yesterday I got around to writing for the great FlashFeed photo prompt for 1.17 below. But when I posted it nothing happened. A quick (if late) check of the rules and I found the date closed at midnight Monday. Doh! Anyway, for what it's worth here it is.

Click on the link to the
FlashDogs site
so that you too can find it and write for (preferably within the prescribed limits).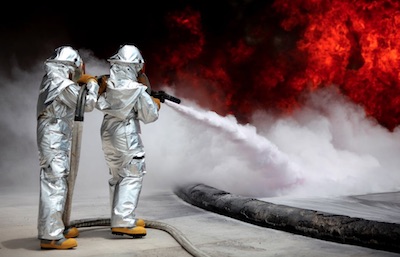 Health and Safety at Work


The fires of hell raged in front of Cameron and Ulysses slashing the sky with a scarlet neither of the firemen had seen before. Ulysses had fought fires in chemical works and waste storage facilities, he'd seen explosions from unknown gases and liquids pulsing and changing colour like a psychedelic show but he'd never seen anything like this.

Cameron shouted through the mic surprised that they could hear each other with the tumult outside. 'What is it burning Uly?' He checked the latest readout, which indicated the fire was burning at beyond 1600C. It had been burning now for 3 hours.

'No idea Cameron just keep aiming the foam toward the base. We'll have to swop with Indigo in five.'

Cameron and Ulysses stood their ground in the face of the onslaught, both having the same thoughts; it must be some sort of chemical fire, they knew no raw materials that burned with this rage or this colour and why was it not burning itself out? Something was feeding the fire.

The indicator lights flashed green on the hose. The foam was running out. Team Indigo would be tag-teaming in within the next 90 seconds.

A wall of heat broke on the men like a tsunami forcing them back it was getting out of control. Nothing the firefighters had tried had worked. They were barely keeping it within the confines of this sector of the site and no-one knew what lay beyond that hangar and storage depot; Sergeant Floyd had told them about the fuel lines and the oil storage area beyond the next hangar and there were limited cleaning and disinfecting fluids and powders all with the propensity to burn or explode, but nothing on this scale.

Then again they all knew there were unfathomable risks when assigned to Area 51.

In an emerald flash of lightning the fire disappeared and the men of Team Hawaii and Indigo, with nothing now to brace against, fell over like children playing tug-of-war.