Twisted!
Twisted Tax Tales
Once upon a time...
a tax and accountant company* in Australia ran a writing competition. And one A.J. Walker had an off the counter story which fitted with the theme (basically story needed to include 'an accountant' as a character). I actually had a story I wrote back in my days doing an OU creative writing course called... The Accountant.

So a tiny bit of editing... Attach and... press Send.

Then wait...

Wait..

Wait.

Yep, Short Listed. Whoop!

I had posted the fact that I'd entered on Facebook and one
Mark Davoren
spotted it. So he entered too. And yep, another writerer from
Liverpool
got in there too. Nearly all the rest of the authors were from Australia and New Zealand unsurprisingly. Was cool to see two Liverpool writers getting in there.


And yesterday the book arrived. Lovely it is too, don't you think?


Just a teeny wee shame about the typo on my blurb about one of my favourite books;
Perdido Street Station
by
China Mieville
has been autocorrected to Period Street Station. Doh!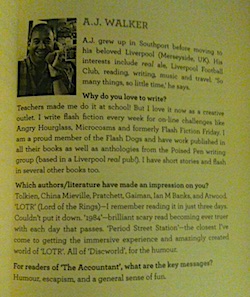 The book with a whopping 35 stories in it is available in
Paperback and on Kindle
. It's a mahoosive £16.55 in Paperback and I blame the Australians (and perhaps their tax rates) for that. At least the Kindle version is available too.


#KeepWriting


*Success Tax Professionals