Casino Royale
Been a bit tardy with getting a blog together for this one, but hell I've been busy & lazy at the same time (a blisteringly uncomfortable excuse sandwich). But last week I was lucky enough to snag a couple of free tickets for the Casino gig at Phase One, Seel Street, Liverpool. It was just my second time at Phase One, with the previous gig being the Heavy North in early March. As a nice coincidence/circularity the last time I saw Casino was supporting the HN up the road in the Arts Club - which had been a fabulous gig for all involved: just a shame about the Arts Club's current status. Ho hum.

I had the electronic tickets on my phone (obtained from a great gig buddy: thank you JC), but there was no-one on the door to check tickets anyway. I think the rather dodgy weather (cold, breezy, and sleety) had put some off coming out and the venue was not at capacity. I went with a colleague from work - where we sometimes hear Casino and their contemporaries - playing through the speakers; if Alexa feels like it.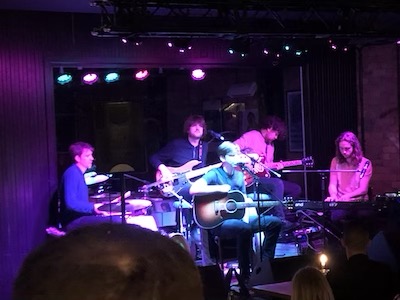 The gig itself was great. We caught a bit of Ellis (a Dylanesque singer songwriter complete with harmonica) first and 'treated' ourselves to some keg beer; it wasn't fabulous but then again gig beers are rarely that. And I have had a lot worse (and let's face it anyone attending the Carling Academies of this world has too). The guys of Casino (who inexplicably have only four songs up on Spotify and no albums to sell us) gave us a gig in two sets. For a free gig we had indeed paid a more than fair price for their time & artistry.

Depending how they want to, or can, progress their career they really should do brilliantly. They are already a really tight (and, in some cases, decidedly tall) unit. Their song writing is beautiful and their musicianship is spot on. The songs are all presented with panache and consummate ease. And the hats must go off to the sound guy in this regard too. I will definitely be going to see them again if and when the chance arises.


Check 'em out on Spotify (even though there is not much there yet it is all good stuff and shows you what they are like), and go out and see them when you can. Nice one.