Another Whiskey Song
21/04/19 13:28 Filed in:
music
It's been a few weeks since I've played a new (or new old) song and with me being off today I thought I'd do one as part of my guitar playing practice. The last one I put up was 'Whiskey in my Whiskey' which I've done at the last couple of Open Mics along with 'Down by the Water'. So with all these liquid songs I decided to do another one and have gone for a slow slow version of the traditional Irish song 'Whiskey in the Jar.' It's no Thin Lizzy or Metallica version.
Anyway, I did it on the first take which is at least ten takes fewer than usual.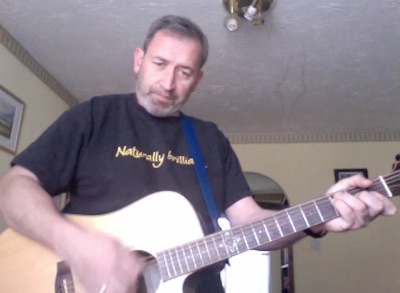 Whiskey In the Jar
(apologies for the lack of a check shirt - confusing, I know)
My song list is expanding slower now. But if I can concentrate on them I can improve them. Think my singing is improving a little from its admittedly rather low base.
Current songs that I am playing and have put on YouTube are:
Whiskey In The Jar (trad. Irish)
Whiskey In My Whiskey (Felice Brothers)
Down By The Water (Decemberists)
Love Hurts (Gram Parsons and Emmylou)
My Heart Is Living In the Sixties Still (Saw Doctors)
Save It For A Rainy Day (Jayhawks)
Take Me Down To The Infirmary (Cracker)
N17 (Saw Doctors)
Shed A Tear (for the lonesome) (Green on Red)
Splendid Isolation (Warren Zevon)
You Couldn't Get Arrested (Green on Red)
Somewhere Down The Road (Chuck Prophet)
One I Love (REM)
Van Diemen's Land (U2)
Sweet Carolina (Ryan Adams)
Better Be Home Soon (Crowded House)
Heart Breaks Like the Dawn (Chuck Prophet)
Hotel California (Eagles)
Written out like that it looks like a whole setlist. Anyway, in a few months I'll start putting newer versions of the same songs which should show some progress. Bloody hope so anyway!