Frank Turner Week #1
CLASS SONG OF THE DAY YEAR TWO:
FRANK TURNER WEEK

'
They've started raising walls around the world now

Like hackles raised upon a cornered cat
On the borders, in our heads
Between things that can and can't be said
We've stopped talking to each other
And there's something wrong with that

So before you go out searching
Don't decide what you will find
Be more kind, my friends, try to be more kind
'
Lyrics:
'
Be More Kind
'


So after the glorious harmonies of the Jayhawks along came one of my favourite singer songwriters (and I mean of all time even though he's only a young pup right now) the wonderful
Frank Turner
. He is a prolific writer and performer and the quality doesn't seem to be a problem. He keeps track of all his gigs and currently as I write this he's up to gig #2183 (in Baltimore). I've been lucky enough to seem him at
five
of those gigs and they were all boss (
Bath, Liverpool
,
Glastonbury
(Secret gig) and
Glastonbury
(Second Stage)).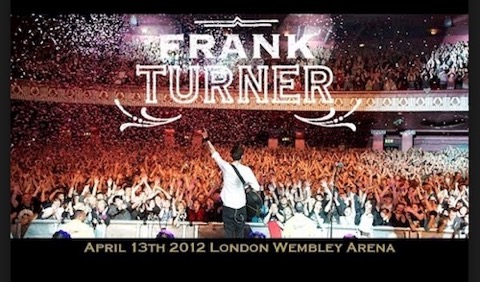 That's four not five. Well yeah. The first time I saw him was incredibly at
Wembley Arena
on April 13, 2012. I'd gone down to watch the Liverpool v Everton semi-final at Wembley and found that the night before Frank was playing the Arena. A very lucky accident. It's hard to get over how bizarre this gig was in some ways. I mean a folk(ish) guy without big record company backing and not that well known filling out Wembley Arena through little more than word of mouth. It was a fabulous gig. A massive singalong from start to finish. Support was great too with
Beans on Toast, Dan Le Sac vs Scroobius Pip
and
Billy Bragg
. I was lucky to keep some of my voice for the following day (when Liverpool of course beat Everton).
The seven songs I chose were:
Glory Hallelujah!
Plain Sailing Weather
I Knew Prufrock Before He Got Famous
Get Better
Long Live the Queen
Reasons Not to Be An Idiot
Mittens
Click on the pic to go to the Class Song of the Day (Year Two) and check them out. He's so prolific and great that I'll be having a second Frank week later in the year.
Frank Turner & the Sleeping Souls are a brilliant live act. If you get a chance to see them don't think twice.
This week's songs will be from
The Pogues
.