Much More Class Ryan et al
Just updated the next ten songs on Buffer for the upcoming days with some fab tune age. Disappointed how little decent live footage (or even official videos there are of next week's class act). Ho hum. Some bands don't get the coverage or investment they deserve. Ryan Adams week has come to an end there was no probs finding decent vids and lots of live stuff by him. Biggest problem was refining a selection down to seven songs. Been listening to lots of the CDs in the van this week, whacking them on loud. Let's face it I could have just put seven tracks of Gold or Heartbreaker up. Me thinks I'll be having a second Ryan Adams week later in the year.
The seven songs I chose for Ryan Adams week were:
I Love You But I Don't Know What to Say
Two
When the Stars Go Blue
Do You Still Love Me?
Let It Ride
Come Pick Me Up
This Is It
Really I could have picked seven other songs and been equally happy with the selection. So many good songs in that man's heart.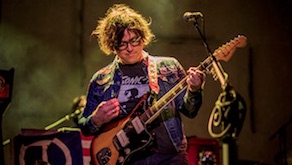 Putting ten songs in Buffer means I've selected the first three songs of the following week too and again the biggest problem with that act is getting the number down to seven songs and I can see me
definitely
having a second week for that artist too.
Thinking of presenting the Class Song of The Day pages on the website differently now that this year it is split into weeks. Watch this space...
Anyways, been good to keep it going and enjoying the videos and performances myself even if not many of you guys have been clicking yet (though happy to see Sal has been enjoying Ryan today!).