Of Canals and Discovered Writing
Had a strange day yesterday. Long and boring story about van hire which I wont go into, but I needed to get it down to Birmingham for a new windscreen and clutch and MOT. Long story short, I got the windscreen and a new clutch, but didn't have time to get the MOT done. So I need to go down again next week.
Birmingham is in the middle of a
Tier 3
area, so I couldn't pop in a cafe or a museum to fill time up. I went for a couple of walks along various canals in Smethwick and Dudley and other than a few nice, if post industrial, views and photos, the main thing I got was cold.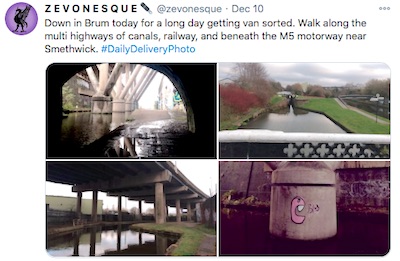 I'd set my Kindle aside to take down and went into my bag only to find I'd not put it in the bag. With the amount of time I was down there I could have finished the book I'm currently reading ('
The Koh-i-Noor',
by
Dalrymple & Anand
). I also didn't have the keyboard with my iPad. And there reception in the clutch place wasn't exactly set up for typing anyway.
I did go back to my Scrivener and found a couple of pieces I was working on a while back. One in particular, which had no name but for now I've called '
Close to the Wind'
, I read and couldn't recognise it until I read most of it. It was ridiculous as I only wrote it about a month ago. I'm yet to decide whether to continue with it, but I do like it at the moment. Take a look and see what you think.
If I'd had a keyboard I may have felt like writing
Thursday Threads
from Siobhan Muir, which I used to do from time to time. Unfortunately I got around to writing it tonight; the challenge is just on the day itself (rather like Flash Friday). So I couldn't put it up. For the hell of it I've put it ('
Gintastic
') on the website. Largely because it reminds me of somebody and it's just a bit of fun.
Anyway, next week when I'm back in Brum I'll definitely be remembering to pick up my Kindle. Though I hope I'll have already finished the current read. In any case it should be a lot shorter day down there. In theory.
__________
Twitter links
@SiobhanMuir